I finished two more tops, both of them positively ancient.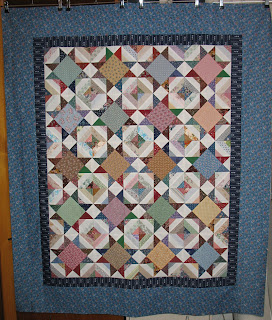 The Night and Noon blocks were made when my DD was 1yo, and seeing as she's about to turn 21 that makes them one of the oldest UFOs I have. I have absolutely no idea why I didn't finish this years ago, except maybe I was thinking what I always do; 'I'll make a few more blocks to make it a decent size.....' And then I never do make those extra blocks. It's a nice lap size quilt, and will go into the queue of tops waiting to be quilted.

The pink and white heart quilt was started when my 17yo great-neice was born. It has languished ever since, waiting for just the right border fabric. This would never have been my first choice of border, but it's pretty and it's finished. I'll just have to find another baby to give it to, and not wait 17 years this time.
And then, because I love chaos apparently, we covered the floor of the bank building with our orphan blocks and played with different layouts. I started sewing mine together before I could get precious about what went where; these are Unloved, Out-of-Shape, Un-used blocks. Just putting them into a top is going to be a massive step forward. If it looks good at the end I'll be happy. Surprised, but happy.

Many of these are hand-pieced, experiments when I was trying to find the next Perfect Project. These weren't it, obviously. They had too many pieces, too hard to press, just plain boring or way too difficult. They have issues, but they look alright from a distance. I imagine judicious quilting will help tame the worst of the bumps and bulges. The colours go together very well, but I think that just means that I am very predictable in my fabric choices. And a good thing too!