I made several New Year's resolutions. One was to post to the blog at least every second day, but I haven't done too well on that score. Curses! Will have to try harder. My problem is that I don't like posting progress photos, I want to show the finished product, and if I don't actually finish something, there's no post. That will have to change.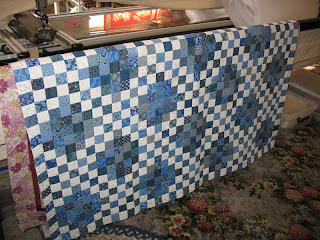 Here we have progress photos of the blue and white Double Irish Chain; the top is in one piece, the borders are cut, and today I will combine the two.
I desperately want to see the back of this one; while I was sewing those interminable 2" squares together I had to stop myself calculating the sheer number of the little rotters that I had cut and stitched. 999 in fact. Which is interesting; if I ever want to make a quilt with close to 1000 pieces I will just make it 27 x 37.

As if that wasn't enough I cut all these bits for the Carolina Crossroads, and it took HOURS! It also used up loads of strips, so I had to cut some more, and then I started calculating just how much fabric had gone into this quilt - 5.25 yards!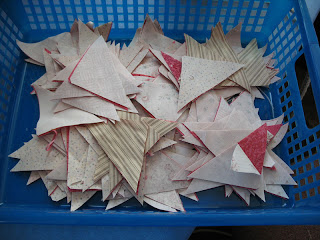 I'm now keeping a journal in a notebook on my cutting table, jotting down what I cut for each project. I also record how much fabric I've bought. At the end of the page I total up the numbers and see if I'm still in Stash Deficit. This week is looking good. I cut up

51" of fabric to finish a UFO from 1988,

6" to do the sashes for another ancient UFO,

2.2 yards for the borders and binding of the Double Irish Chain,

48" for the sashings for the scrap quilt.

That's a grand total of 5.2 yards, plus the 5.25 from the Carolina Crossroads. 10.45 yards.
So the 4 metres I added to the Stash are nothing really......I'm still 6 yards down. I have to stay away from
Hancocks
though, I could do some serious acquisition there.
It's been beastly hot here, my roses are crispy little shadows; I have no idea how many will actually survive this. I have kept them watered, but the heat is so tremendous and so dry that they can't take the water up fast enough. 108 F. That's not funny. And it's not global warming; I can remember summers like this when I was a teenager, but I could cope with the heat a lot better then. The resilience of youth! These portulaca are the only that seem to be thriving in the heat, and at the end of the long day even they seem a bit weary of the whole thing. Only 2 more months of this........